Her latest film The Legend of Tarzan not Theresa May ,how could you be so confused, Margot Robbie stars in this summers block buster, has grossed £140million worldwide.




But away from the cameras, Hollywood star Margot Robbie only has eyes for an estate agent's son from Surrey.
The couple have been together since 2013


The Australian actress, 26, has been dating Tom Ackerley since she met the assistant film director in 2013 on the set of war drama Suite Française.

Mr Ackerley's estate agent father died in April aged 63.
Miss Robbie and Mr Ackerley enjoy a modest lifestyle living together in Shepherd's Bush, London.
They used to live in a houseshare in Clapham where they were spotted shopping at Sainsbury's and even eating at McDonald's.
There were rumours the couple got married secretly after they were seen wearing gold bands, but they did not have rings during their Hawaii trip.
In an interview with Vogue in May, Miss Robbie said her boyfriend was 'the best-looking guy in London'. She also revealed that before she met him, she had been the 'ultimate single gal'.
Her life with Mr Ackerley is a far cry from the glamour of LA, where she is one of the fastest-rising young stars.
His mother Nikki, 57, owns a property marketing company and lives in a £1.3million semi-detached home.

In the 1980s, Nikki Ackerley began her career in public relations as a Promotions Executive at IPC Magazines, responsible for the publicity of Ideal Home and Woman's World. Following a career break, Nikki was appointed property correspondent of The Surrey Advertiser in 1991, a role she held for 15 years, winning Regional Property
Correspondent of the Year in 1995. For ten years she was also responsible for an annual property business dinner attended by 300-400 guests that raised over £90,000 for charity.
Margot Ribbie new mother in Law ?


A year after joining the Surrey Advertiser, she was asked to undertake some PR 
for a local estate agent and a developer and Property House Marketing was founded. Now in its 23rd year, its impressive portfolio of clients includes well-known names 
in the housing industry. Nikki has an extensive network of contacts encompassing national and trade property journalists, house builders, developers, estate agents and related property companies.

Nikki is currently editor of The Guildford Magazine, The Woking Lifestyle Magazine and The Farnham Magazine. She is also actively involved in The Guildford Vision Group, which is campaigning for a master plan for Guildford's Town Centre and is on the executive committee of The Guildford Society. Unsurprisingly, Nikki has been listed as one of Surrey's top 50 business women by Surrey Chamber of Commerce.

My dream home: For me the best house is akin to a superstar with the x-factor! I love modern contemporary houses with loads of glass and huge open plan entertaining spaces so I'd love a penthouse looking over the River Thames or a house in a wood where glass walls would create a seamless division between inside and outside. But having just moved to a listed house in the town centre with a walled garden and parking - I love the charm, the convenience and the fact it's only one room deep and every room is double aspect. But it's right for me now.... homes have to suit the age and stage of your life...... and there can never be enough storage.
One room that always sticks in my mind though is the dining room of The Criterion Restaurant in Piccadilly. It's sublime bling .....but executed with immense glamour.
May appoints New Housing Minister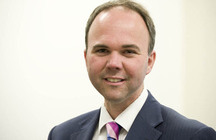 Gavin Barwell [picture above ]was appointed as Minister of State for Housing, Planning and Minister for London at the Department for Communities and Local Government on 17 July 2016. He was elected Conservative MP for Croydon Central in 2010.
Gavin has been a member of the following Select Committees:
Science and Technology 2010 to 2012
Draft House of Lords Reform Bill (Joint Committee) 2011 to 2012
Gavin previously served as Government Whip, Comptroller of HM Household from May 2015 until July 2016, Lord Commissioner, Whip from July 2014 until May 2015 and as Assistant Whip from October 2013 until July 2014. . Gavin was Parliamentary Private Secretary (PPS) to the Secretary of State for Education, Michael Gove, from 2012 to 2013 and PPS to the Minister of State for Decentralisation and Planning Policy, Greg Clark, from 2011 to 2012.
Outgoing Brandon Lewis [pictured above ]held the post since 2013 during David Camerons premiership, Lewis bought in tougher legislation for landlords , with Section 21, making it harder for them to evict tenants and also renting property to illegal immigrants.Landlords also face the huge fines of tens of thousands , for renting no fit for purpose property, to tenants.
Lewis also help implement , the Historic Housing and Planning Bill which the Government hopes to transform generation rent into generation buy. The Housing Bill Brandon hopes will allow the Government go even further by kick-starting a national crusade to get 1 million homes built by 2020. The Great Yarmouth MP Brandon Lewis has been appointed Police & Fire Service Minister.
World leaders stand united strongly condemning vile attack in Nice ,France @onthemarketblog
Boris Johnson , Foreign Secretary comments on the anniversary of Iran nuclear deal
Cabinet reshuffle ,Pending Brexit Divorce, Stakhanovite constitution , EU president Juncker Thoughts on New PM May
David Cameron's last PM's questions Highlights ,I will be willing you all.on thankyou
I'm on the ballot paper Jeremy Corbyn May the best labour Candidate win Leadership
BBC Anyone ?
European ceiling plaster , yet to settle , Boris Johnson Foreign Secretary comment on 1st Day
Robert Peston ? Angela Eagle launches Labour Leadership Challenge to Jeremy Corbyn
Cabinet reshuffle ,Pending Brexit Divorce, Stakhanovite constitution , EU president Juncker Thoughts on New PM May
Theresa May takes power as the new UK prime minister officially received by the Queen to form New Gov Administration
David Cameron's last PM's questions Highlights ,I will be willing you all.on thankyou
I'm on the ballot paper Jeremy Corbyn May the best labour Candidate win Leadership
BBC Anyone ?
Robert Peston ? Angela Eagle launches Labour Leadership Challenge to Jeremy Corbyn
Sajid Javid to meet Indian Finance Minister Arun Jaitley and Indian Commerce and Industry Minister Nirmala Sitharaman, Post Brexit
London council early morning raid finds 17 men living in three bed terrace
UK share price up, though early post Brexit days will remain Volatile says Governer Mark Carney BoE
Bank governor
Mark Carney eases rules for banks to meet Brexit challenge
Queen Elizabeth Speech Scottish Parliament 5th Opening staying calm and collected