Number of properties available to rent hits record low


A new report indicates that housing supply in Ireland was at its lowest point on record at the beginning of this month.


There were just 3,600 properties available to rent nationwide at the beginning of February, the lowest point on record.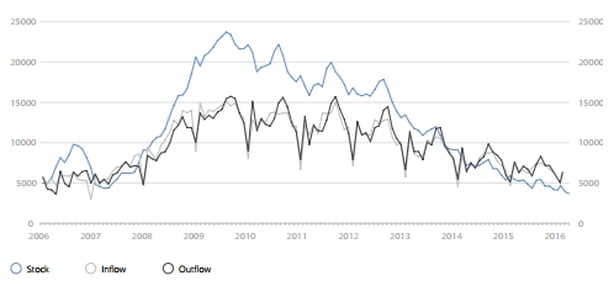 Daft.ie said Dublin has been effectively starved of rental properties, with less than two weeks supply, or just 1,400 rental homes, on the market in the capital at the beginning of February.
Meanwhile, the report also shows that the national average rent between October and December last year was €979, up from €898 the previous year.
The rental pressure has also spread outside Dublin. Rents were 15.4% higher than a year ago in Cork city and 13.3% higher in Galway city.
Economist for Daft Ronan Lyons said it is incumbent on the next government to listen to the National Competitiveness Council, which will be benchmarking construction costs and come up with an action plan.
Speaking on RTÉ's Morning Ireland, Mr Lyons said housing supply is the worst on record for the past 10 years and that we are in "unchartered territory".
He said we need to look at how expensive is it to build relative to our own incomes.
Plans approved for Great Patrick Street, Belfast
A student housing scheme in Belfast, which recently received planning permission, has been sold.
The scheme on Great Patrick Street has been bought by London-based Olympian Group.
It had been owned by Yorkshire-based Patton Developments, which got the scheme through planning in January. The sale price has not been disclosed
Belfast City Council have granted full planning permission for the redevelopment of the site at 28-30 Great Patrick Street, Belfast to provide 475 student beds, together with associated ancillary space and ground floor retail, subject to agreement of developer contributions
. Works now begin on the detailed design for the scheme, with an anticipated start on site in Q3, 2016.
TfL releases land for 10,000 homes across the Capital
Are you paying your high street estate agent to much to money ? Take the Challenge @onthemarketblog
Zac Gold Smith Housing Crisis what needs to be done
London's housing crisis > Blue and Red debates @ London Mayor Question Time & Cop21
Elected Labour Candidate, for Mayor of London, Sadiq Khan, outlines his Housing Policies
Boris tells planners & developers to put culture first for city development
why Uber is good for london
Class War protest outside Kennington Road London High Street Estate Agents Reed and Rains
£24m Westminster Mansion Sold Online to save High Street Estate Agent Fees