The Unacceptable Face of Capitalism, a damning report , Sir Shifty BHS Philip Green, Demands an apology from MP Frank Field
Former BHS owner Sir Philip Green has demanded an "immediate apology" from MP Frank Field for comments he made about his running of the collapsed retailer.
The website has also also become a casualty along with its workforce numbers running into the tens of thousands.
Speaking to the BBC, the co-chair of an inquiry into BHS compared Sir Philip unfavourably to late media magnate Robert Maxwell, who took millions from the Mirror Group's pension funds.
The Portly , Mr Philip Green is offshore on in his recently aquired multi pound Yacht, while many at BHS ,many facing redundancies years of working for the company
"This statement is highly defamatory and completely false," said law firm Schillings, representing Sir Philip.
Mr Field said he would not apologise.
He told BBC business editor Simon Jack that Sir Philip's conduct was "displacement therapy".
"Instead of writing a big cheque he is firing off lawyers' letters. He needs to stop messing around and write a big cheque".
His earlier remarks were made on Radio 4's Today programme.
The development came after a damning MPs' report, published on Yesterday, concluded Sir Philip, the billionaire former owner of BHS, extracted large sums and left the business on "life support".
The report, from the Business, Innovation and Skills and Work and Pensions committees and co-chaired by Mr Field, did not suggest that Sir Phillip had done anything illegal.
But it said his failure to resolve BHS's £571m pension deficit was a major factor in the firm's demise.
Green is understood to have offered £40m in cash to help support the fund – which has 20,000 members - and to write off a £40m charge held by his Arcadia Group over BHS assets.
even the mannequins are up for sale in the retail shops which are now are closing for good
But the regulator wants more and its bid for further support is likely to be strengthened by many financial analysts which suggests the amount Green's family earned from BHS is more than the retailer's £571m pension deficit, as measured on a buyout valuation.
The pension scheme is now in the Pension Protection Fund, meaning that its 20,000 members will receive less money than they had expected
Sir Philip, responding late on Monday to the report, called it "the predetermined and inaccurate output of a biased and unfair process".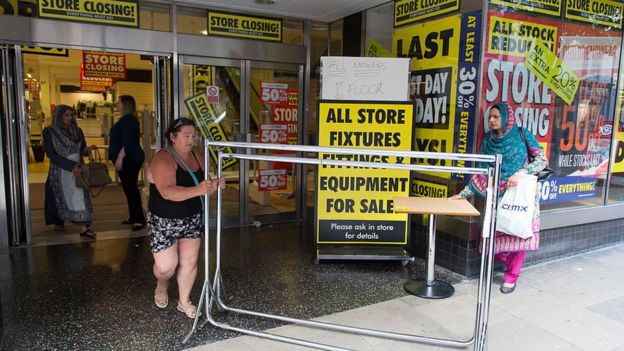 BHS is in the process of closing down after what the MPs report called the "shambolic" ownership of Dominic Chappell, who bought the retail chain from Sir Philip for £1 last year.


BHS was "hurriedly sold to a manifestly unsuitable" buyer in that deal, even though Sir Philip knew Mr Chappell was a former bankrupt with no retail experience, the MPs found.


The sale went unchallenged because Sir Philip ran his retail empire as "a personal fiefdom", they said.'Sad and sorry'


"With the benefit of hindsight, clearly Retail Acquisitions and Mr Chappell were a very bad choice as purchaser on many fronts and I feel badly let down," said Sir Philip.



But he said the sale of BHS was "made one hundred per cent in good faith".

"As I told the committees, I am trying to find a solution for the BHS pension and am continuing to work with the Regulator to achieve an outcome.


"I am sad and sorry for all the BHS people caught up in this horrid story, but I do not believe that this story is being in any way fairly portrayed."



sign of the times with store closures a common site throughout the United Kingdom


A spokesperson for BHS's former owners said: "There was an independent board of trustees who had sole control of the pension funds and they made the decisions. If a deal was agreed of £x to be paid that was the deal. They were free to do whatever they liked."

Chris Martin, the chairman of BHS's pension fund trustees, was not in post at the time the recovery plan was agreed, but said he understood BHS was not in a financial position to pay more. "I'm aware that the company was cash constrained," he said. "The duration of the recovery plan was balanced against the
level of investment risk to reach a period suitable for the circumstances of the scheme."
Read the report introduction
Read the report conclusions
Read the full report: BHS